New Pop-Up Canopy Tents
We are pleased to announce our new lineup pop-up tents in two styles available to rent or include with our outdoor services. We love to get outside and DJ and these easy to setup pop-up canopies will offer some great advantages any outdoor event. Rent them both for 128 square feet of cover.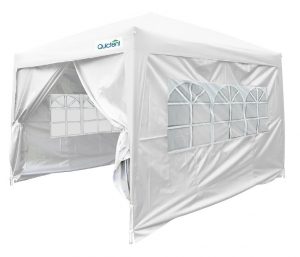 Our white Quictent 8′ by 8′ or 10'x 10′ popup-canopy is perfect for a wedding ceremony, musician, or live sound control. These water-proof tents are perfect to shelter production equipment used during wedding ceremonies. The tent is large enough to shelter speakers, sound control boards and microphones, your DJ or even a serving table. The optional side walls offer more protection from rain and sun. This tent offers allot of protection but it still might be necessary to shut-down during more intense wind or rain as they are temporary shelters.
It's usually necessary to use two or more people to setup this shelter.
Our funky 8'x8′ DJ sun canopy can tilt for extra sun or rain protection. It's faster and easier to setup than our canopy, one person could setup in a pinch. It's designed more for sun-shade and wind vs. rain. Simple garbage bags placed over speakers can add another layer of emergency protection in a surprise storm.
All of our canopies should be properly anchored with our provided weights (on hard surface like concrete) or staked (in soft surfaces like grass). Canopies improperly anchored can be picked up by wind and suffer damage, but not to worry anchoring is simple and easy.