This is a boxed content block. Click the edit button to edit this text.
What past clients have to say
Sean was extremely helpful leading up to our event, answering my many questions and ensuring he had all the details about how the evening was supposed to flow. None of our song requests were an issue, and it was easy for our guests to walk up and request a specific song.

We liked how Moe kept checking in with us to make sure he was playing what we wanted to hear.

Jennifer and Paul Allen

October 2015

Sean was very professional and understanding when dealing with the bride and groom's requests. Especially at the wedding when the announcements were just being fed to you as I was thinking of them. The music selection was awesome, the dance floor was often full and when it wasn't you switched songs to get the guests back up. Thanks!

Megan Philipsek

October 2012

Thanks Sean for the entertainment for the evening. Everyone had so many good things to say about the classical guitar and DJing. You got the people to dance the night away, which is exactly what we wanted! We had a fabulous time and thanks for replaying songs that I missed!

Janice and Steve Smith

July 2015

The whole process was just so easy. Right from requesting the quote, and going ahead with the booking, making the deposits and final payment via email payments, reviewing and selecting the music that would be played at the party. It was all fantastic and was an essential piece to ensure that the event was successful. I was really able to just trust in their experience and expertise to ensure that their responsibilities would be automatically taken care of. Thanks so much Sean

Perfect selection of instrumental song choices for our ceremony. Great job at feeling what music kept everyone dancing!

Tiffany Fairbrother

Sept 2015
Collective years of experience.
Songs in our music library.
Our recent articles on weddings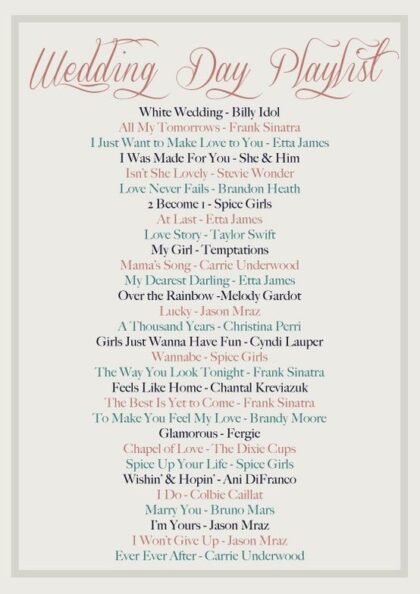 Here are a few samples of a current typical wedding playlist, we hope it gives you a few ideas....