This is a boxed content block. Click the edit button to edit this text.
What past clients have to say
Loved everything. Thanks Sean!

We were thrilled with the whole experience! During the dance, each song was better than the last, and Sean really knew how to read the crowd to figure out what we'd want to hear next.

Heather Macpherson

July 2015

My sister asked Nolan to play an Enrique Iglesias song and he was very up front in telling her that he only had the uncut version. Trish was extremely grateful that he told her ahead of time, as she chose not to have it played because we had a group of young kids, some smaller children, and several older people at our dance. In fact, she called Nolan 'gracious' and helpful! We also found Nolan very understanding, especially when he had to wait for 1/2 an hour (with us) until the person with the key arrived to open the hall door. He never grumbled or made us feel badly about the mix-up. We were extremely impressed with the pricing for your services. We couldn't afford a lot, and our daughter had decided to just use an iPod for the dance. I checked out DJ's and 1st in Entertainment was the best price and- ultimately- the BEST music! We were very impressed with the incredible choice of songs, and the fact that Nolan offered to let our small band (who did 5 songs for the Bride and Groom) plug into the sound system, made me feel really comfortable. I sure wish we'd have taken him up on his offer! Our dance floor was full the entire night and everyone had a wonderful time. We are still hearing compliments about the great music, and I will DEFINITELY recommend 1st in Entertainment to anyone needing a DJ. In fact, if we put on another function, you're hired! Thanks for the fabulous evening, Nolan- it was everything we hoped for!

Elizabeth Anhorn

August 2011

Handled the entire music/entertainment flawlessly and I didn't need to worry about anything

The dance music for reception was a perfect fit! In terms of the dancers in our crowd, there was something for everyone. Sean played music for the reception was very well coordinated with all the pieces falling into place when they should.

Ryan and Lisa Palmer

September 2012

Alex was really friendly and incredibly helpful - she was proactive and easy to speak with and knew exactly what was going on all the time. I really appreciated all her help!
Collective years of experience.
Songs in our music library.
Our recent articles on weddings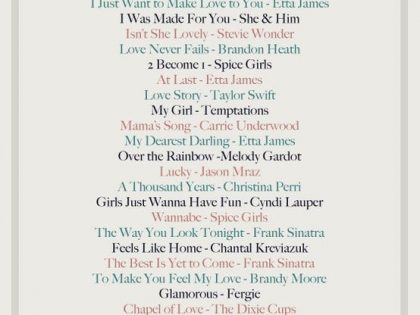 Here are a few samples of a current typical wedding playlist, we hope it gives you a few ideas....