This is a boxed content block. Click the edit button to edit this text.
What past clients have to say
Handled the entire music/entertainment flawlessly and I didn't need to worry about anything

"WOW!!!!!! Amazing, Nolan was very helpful at getting everyone to dance, played music for the crowd, made announcements when our MC fell short, and reminded me when I forgot things such as the bouquet toss...We will DEFINITELY be recommending you to anyone we know who is looking for a DJ. I know there were people all night coming over from the wedding next door asking if they could crash our party because we had a better DJ."

Mandy and Chris Kellough

Nolan was very easy to work with and was receptive to al our requests. He was the main reason we chose 1st in entertainment (initial consult was with Nolan) and so we were happy that he was the dj. Overall he kept people on the dance floor and did a good job juggling our music requests (for ukrainian/folk music versus popular/dance).

nadia luciuk & yannick monaghan

May 2011

Sean was very professional and understanding when dealing with the bride and groom's requests. Especially at the wedding when the announcements were just being fed to you as I was thinking of them. The music selection was awesome, the dance floor was often full and when it wasn't you switched songs to get the guests back up. Thanks!

Megan Philipsek

October 2012

Everyone said that the music mix was terrific.

We had lots of positive comments about what a great wedding dance it was and that some people never wanted to leave the dance floor. Even my dad was dancing - in the over 30 years I've been alive, that has never happened!
Collective years of experience.
Songs in our music library.
Our recent articles on weddings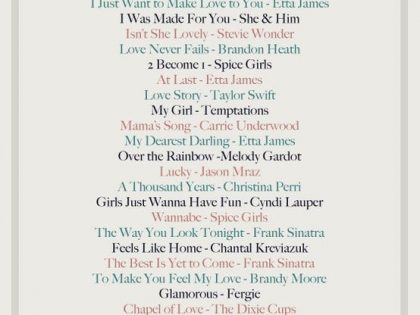 Here are a few samples of a current typical wedding playlist, we hope it gives you a few ideas....