This is a boxed content block. Click the edit button to edit this text.
What past clients have to say
"WOW!!!!!! Amazing, Nolan was very helpful at getting everyone to dance, played music for the crowd, made announcements when our MC fell short, and reminded me when I forgot things such as the bouquet toss...We will DEFINITELY be recommending you to anyone we know who is looking for a DJ. I know there were people all night coming over from the wedding next door asking if they could crash our party because we had a better DJ."

Mandy and Chris Kellough

We had lots of positive comments about what a great wedding dance it was and that some people never wanted to leave the dance floor. Even my dad was dancing - in the over 30 years I've been alive, that has never happened!

My sister asked Nolan to play an Enrique Iglesias song and he was very up front in telling her that he only had the uncut version. Trish was extremely grateful that he told her ahead of time, as she chose not to have it played because we had a group of young kids, some smaller children, and several older people at our dance. In fact, she called Nolan 'gracious' and helpful! We also found Nolan very understanding, especially when he had to wait for 1/2 an hour (with us) until the person with the key arrived to open the hall door. He never grumbled or made us feel badly about the mix-up. We were extremely impressed with the pricing for your services. We couldn't afford a lot, and our daughter had decided to just use an iPod for the dance. I checked out DJ's and 1st in Entertainment was the best price and- ultimately- the BEST music! We were very impressed with the incredible choice of songs, and the fact that Nolan offered to let our small band (who did 5 songs for the Bride and Groom) plug into the sound system, made me feel really comfortable. I sure wish we'd have taken him up on his offer! Our dance floor was full the entire night and everyone had a wonderful time. We are still hearing compliments about the great music, and I will DEFINITELY recommend 1st in Entertainment to anyone needing a DJ. In fact, if we put on another function, you're hired! Thanks for the fabulous evening, Nolan- it was everything we hoped for!

Elizabeth Anhorn

August 2011

Sean was very professional, approachable and flexible before and during the wedding. The lights for the dance were great, not gaudy or over the top, but still fun. The price was very reasonable. We liked the fact that the DJ recommended songs for certain aspects of the wedding (e.g. cut the cake)

Anthony& Simone MacDonald

July 2012

The flow between songs and genres was excellent and there were always people on the dance floor.  We were never waiting for our chosen songs to play for each event (cake/bouquet/garter) and they were right on cue without a cue! I love that he lumped all the "ska" songs together at the beginning of the evening - it really got all my friends dancing and having a wonderful time!  I also love that after the father/daughter mother/son dance he went into another slow dance since we didn't want to have a wedding party dance. This was perfect since everyone was in the mood to be romantic after seeing this tender moment.

Rochelle Dagenais

March 2015

Read the crowd very well - got a lot of people dancing at a small wedding
Collective years of experience.
Songs in our music library.
Our recent articles on weddings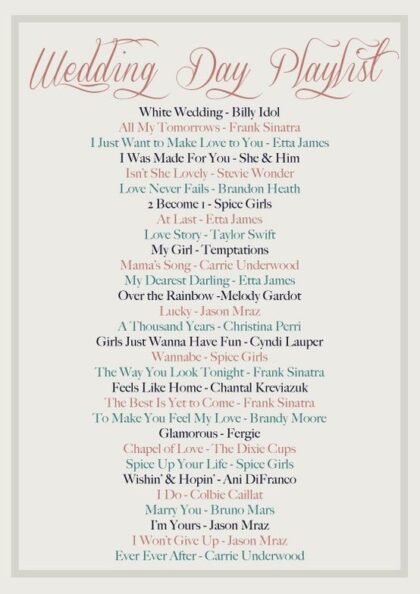 Here are a few samples of a current typical wedding playlist, we hope it gives you a few ideas....