This is a boxed content block. Click the edit button to edit this text.
What past clients have to say
Everyone said that the music mix was terrific.

We liked how Moe kept checking in with us to make sure he was playing what we wanted to hear.

Jennifer and Paul Allen

October 2015

Nolan kept the crowd going and provided a selection of music to keep all age groups happy!

Chris & Chelsi Petersen

July 2012

The dance music for reception was a perfect fit! In terms of the dancers in our crowd, there was something for everyone. Sean played music for the reception was very well coordinated with all the pieces falling into place when they should.

Ryan and Lisa Palmer

September 2012

Great mix of music... Nolan kept the party going.

Thanks Sean for the entertainment for the evening. Everyone had so many good things to say about the classical guitar and DJing. You got the people to dance the night away, which is exactly what we wanted! We had a fabulous time and thanks for replaying songs that I missed!

Janice and Steve Smith

July 2015
Collective years of experience.
Songs in our music library.
Our recent articles on weddings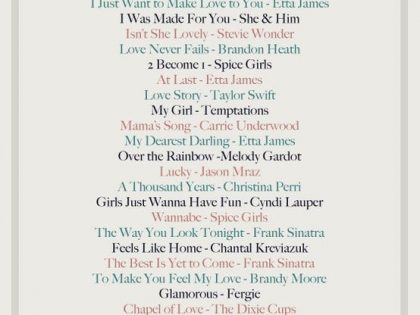 Here are a few samples of a current typical wedding playlist, we hope it gives you a few ideas....