This is a boxed content block. Click the edit button to edit this text.
What past clients have to say
Nolan kept the crowd going and provided a selection of music to keep all age groups happy!

Chris & Chelsi Petersen

July 2012

Sean was an extremely positive, responsive professional who worked well with us throughout planning and on the night of our wedding. He read the crowd extremely well and we were thrilled with his work. We would recommend Sean and 1st in Entertainment to anyone looking for a wedding or special events DJ. The price was also fantastic.

Rachel Lemke Sprung

May 2014

He helped mc when ours was too intoxicated. Also great assistance with the entertainers. Overall good experience.

Nolan was very easy to work with and was receptive to al our requests. He was the main reason we chose 1st in entertainment (initial consult was with Nolan) and so we were happy that he was the dj. Overall he kept people on the dance floor and did a good job juggling our music requests (for ukrainian/folk music versus popular/dance).

nadia luciuk & yannick monaghan

May 2011

Nolan had a great mix of music for the people attending the event. Everything was amazing.

The dance music for reception was a perfect fit! In terms of the dancers in our crowd, there was something for everyone. Sean played music for the reception was very well coordinated with all the pieces falling into place when they should.

Ryan and Lisa Palmer

September 2012
Collective years of experience.
Songs in our music library.
Our recent articles on weddings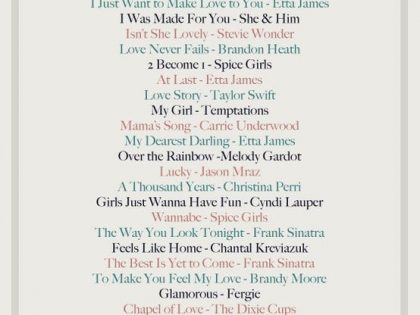 Here are a few samples of a current typical wedding playlist, we hope it gives you a few ideas....