This is a boxed content block. Click the edit button to edit this text.
What past clients have to say
Excellent service!

Kelli Gillespie

October 2013

Sean was very professional and happy to respond quickly and politely to ALL of my emails and questions.   I was very comfortable going into the wedding knowing that everything was taken care of and under control.

The music at the ceremony was beautiful.  I liked that I had different choices in music, but not overwhelming.

[During the dance portion] Sean really played what the crowd wanted to hear and went off of their vibe, in addition to my and my bridesmaids' requests.

I thoroughly enjoyed the evening and so did our guests.

The whole process was just so easy. Right from requesting the quote, and going ahead with the booking, making the deposits and final payment via email payments, reviewing and selecting the music that would be played at the party. It was all fantastic and was an essential piece to ensure that the event was successful. I was really able to just trust in their experience and expertise to ensure that their responsibilities would be automatically taken care of. Thanks so much Sean

Yes! I am very particular about music and didn't want requests or top hits. Sean was amazing and followed the genres and bands I liked and it really made the night. I am super grateful to have had such an easy going DJ and someone that was so willing to follow my requests.

Lauren Romeril

November 2013

Working with Sean for the DJ services of our wedding was great! It was easy, we met with our DJ, Eve, prior to the wedding to discuss preferences and had lots of people dancing!

Denise Powley

September 2012

Alex was really friendly and incredibly helpful - she was proactive and easy to speak with and knew exactly what was going on all the time. I really appreciated all her help!
Collective years of experience.
Songs in our music library.
Our recent articles on weddings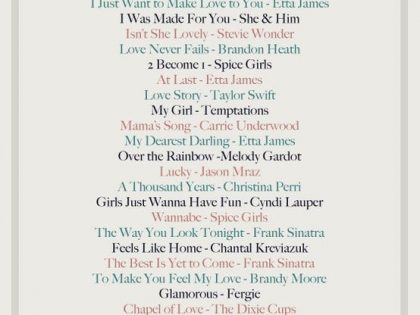 Here are a few samples of a current typical wedding playlist, we hope it gives you a few ideas....