This is a boxed content block. Click the edit button to edit this text.
What past clients have to say
We had great feedback from our guests of all ages, Sean was able to keep the dance floor bumping and read the crowd wonderfully.

Carolyn Lepper

August 2013

Handled the entire music/entertainment flawlessly and I didn't need to worry about anything

Everyone said that the music mix was terrific.

The dance music for reception was a perfect fit! In terms of the dancers in our crowd, there was something for everyone. Sean played music for the reception was very well coordinated with all the pieces falling into place when they should.

Ryan and Lisa Palmer

September 2012

He helped mc when ours was too intoxicated. Also great assistance with the entertainers. Overall good experience.

Perfect selection of instrumental song choices for our ceremony. Great job at feeling what music kept everyone dancing!

Tiffany Fairbrother

Sept 2015
Collective years of experience.
Songs in our music library.
Our recent articles on weddings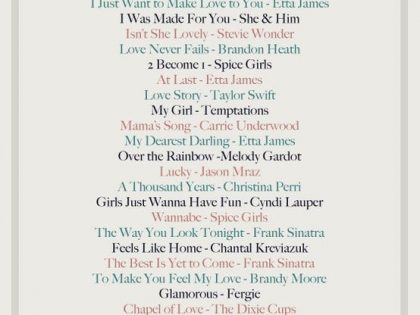 Here are a few samples of a current typical wedding playlist, we hope it gives you a few ideas....