This is a boxed content block. Click the edit button to edit this text.
What past clients have to say
Sean was very professional and happy to respond quickly and politely to ALL of my emails and questions.   I was very comfortable going into the wedding knowing that everything was taken care of and under control.

The music at the ceremony was beautiful.  I liked that I had different choices in music, but not overwhelming.

[During the dance portion] Sean really played what the crowd wanted to hear and went off of their vibe, in addition to my and my bridesmaids' requests.

I thoroughly enjoyed the evening and so did our guests.

Loved that Sean mixed it up by playing guitar and DJing. Great job getting everyone on the dance floor 🙂

Coordinating our ceremony musicians was done particularly well. We had an idea only of the songs we wanted and Sean helped us pick the best instruments and found top notch musicians for us at a price that was way more than reasonable. It sounded fantastic!

Jenna Latanville

August 2012

Sean was very professional, approachable and flexible before and during the wedding. The lights for the dance were great, not gaudy or over the top, but still fun. The price was very reasonable. We liked the fact that the DJ recommended songs for certain aspects of the wedding (e.g. cut the cake)

Anthony& Simone MacDonald

July 2012

Sean was very easy to communicate with via email and phone. He checked in with me an hour into the night to make sure all was going well which was great. He was very accomodating with payment settlement given we had forgotten to bring cash and preferred electronic money transfer. The music he selected for most of the evening kept our guests dancing and we were happy with that.

Barby Horvath and Hans Peterson

May 2013

Used all the songs we requested and did a great job of getting everyone on the dance floor and participating in games - everyone had a lot of fun. The sound and lighting was awesome.

Lindsay and Ryan

September 2015
Collective years of experience.
Songs in our music library.
Our recent articles on weddings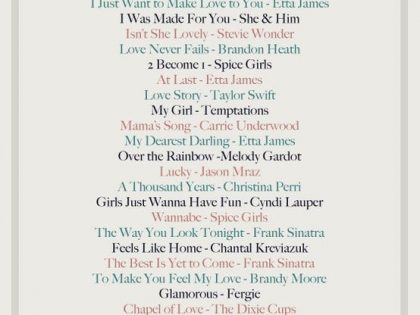 Here are a few samples of a current typical wedding playlist, we hope it gives you a few ideas....