This is a boxed content block. Click the edit button to edit this text.
What past clients have to say
Handled the entire music/entertainment flawlessly and I didn't need to worry about anything

Moe was great! Organized, prompt and accountable.  Loved the lights:)

Everyone said that the music mix was terrific.

Excellent service!

Kelli Gillespie

October 2013

I left important song selections up to Sean and I don't think he could have picked more fitting songs for us. He was very outgoing with the group we had and didn't hestitate to switch up the songs if there was no one dancing, which I really liked. I also requested a specific version of a song to be played live and it was perfect! "Over the Rainbow" was performed perfectly as well. We also received a unexpected surprised when Sean sang "1000 Miles" live for the dancers. Everyone loved it and I heard about it for weeks! I couldn't have asked for a better DJ for my wedding and I will suggest to any friends/family that are looking for a DJ in the future. Thanks again Sean, couldn't have asked for better!!!

Patricia and Andrew

Feb 2013

Honestly - Sean was perfect. Everyone is still complimenting us on our DJ!!!

Kelli Gillespie

October 2013
Collective years of experience.
Songs in our music library.
Our recent articles on weddings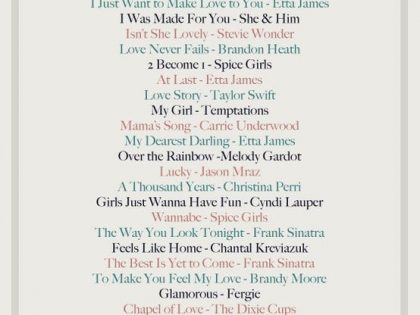 Here are a few samples of a current typical wedding playlist, we hope it gives you a few ideas....